Restaurant in the historic center of Moscow serving grilled poultry dishes.
Location: Gogolevsky blvd 33/1, Moscow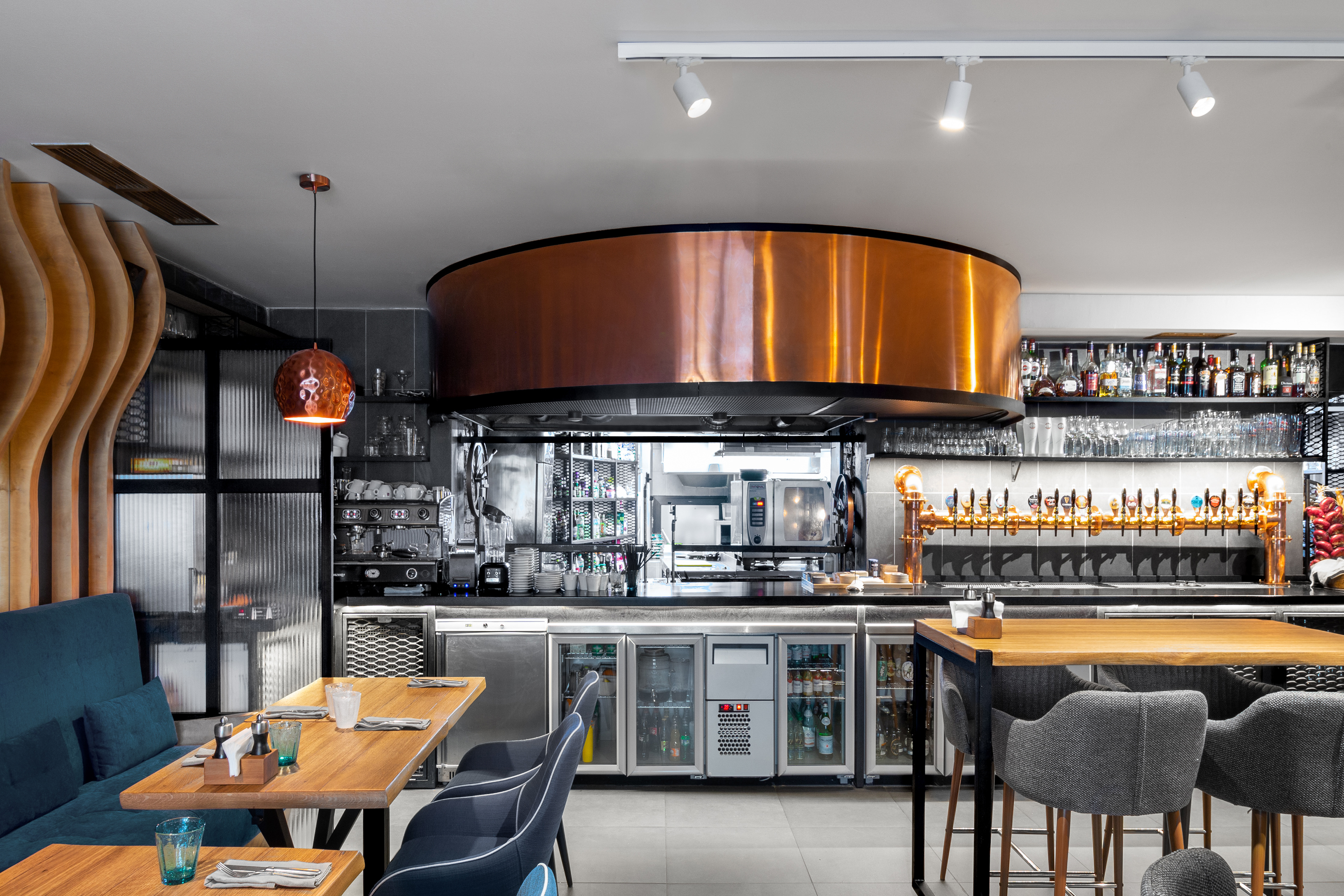 The main idea of ​​the restaurant is high openness and clear process of cooking. The kitchen and the large hall share two wide arches, so one can see the cooks at their work. A charcoal grill is installed in one of these arches – food is prepared on an open fire right in front of the visitors.
There is no classic contact bar in BirdBQ. The bartender works right in the hall, beer taps and the necessary beverage equipment are built into the wall along the kitchen – this makes the restaurant trustworthy and homely.
We transformed the informal English form of the word «barbecue» – BBQ.
As the restaurant specializes in grilled poultry dishes, BIRD BQ reflects the concept. Easy to pronounce, easy to memorize.
Bird BQ is divided into three rooms:
All of them are aimed at different target audiences:
In the Open kitchen, guests can watch the chef's show (there are various culinary events). In the Cafe hall one can quickly dine or just have a cup of coffee. In the Hidden hall people could make an appointment or simply spend the evening for a slow and quiet dinner. There is a cozy full of greenery summer terrace in the backyard, hidden from the eyes of passersby.
We used a lot of metal and wood of different textures. Parametric dark oak wall panels with thin mirrors visually expand the space. Doors and ceilings in the WC  are sheathed with marble wood veneer. Countertops are made of solid oak. Metal frames with corrugated glass divide the space for additional comfort. The used copper decorative elements to highlight the interior geometry.
Walls are painted by Natalia Uspenskaya, an artist from Moscow, also there are small relief bird silhouettes in the wall niches. Check books and reserve signs are bird look alike sculptures made in different techniques.
The logo of the restaurant is based on the contrast – a strict font and a playful bird icon. The concept involves two business-models: restaurant and fast food. We took one identity as a basis and made the restaurant brand elements look strict and seasoned, while fast food elements are bright and flashy.